Our Apothecary
The Mederi Center® Apothecary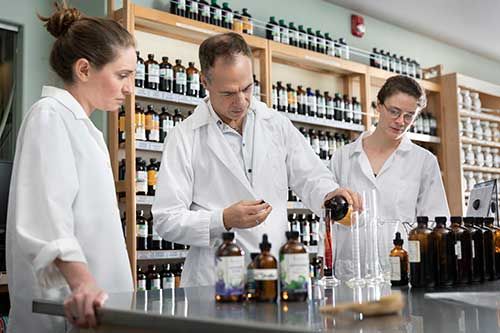 The Mederi Center® Apothecary is a trusted full-service compounding botanical apothecary for Mederi Center clients, licensed practitioners, and other qualified healthcare professionals and their patients. We are a source of quality botanical medicinals and offer both custom compounding services and stock formulas.
Our Apothecary features 200+ single extract botanicals, 100 dried botanicals, 150 botanical extract powders and Chinese granulars, and many top brands of practitioner-quality nutritional supplements.
Our extensive line of unique stock formulas includes tonics, teas, powder blends, and topicals, that have been formulated and clinically tested for decades by Clinical Master Herbalist, Donnie Yance. 
All of our raw materials are expertly vetted for the highest quality, purity, potency, and clinical effectiveness, and are manufactured in accordance with the American Herbal Products Association's Good Compounding Practices.
We offer hundreds of single ingredients (liquid and powdered herbal extracts, Chinese granules, essential oils, topicals, and dried herbs for teas and decoctions).
We compound custom formulas developed by our clinic practitioners.
In addition, we expertly compound formulas developed by qualified practitioners from outside the clinic who have an account established with us.  
Our Certified Herbalists precisely compound a practitioner's custom formula request to ensure accuracy while simultaneously monitoring the ingredient inspection and handling procedures for quality assurance.
Existing Patients:
For information on how existing patients can place an online order or by fax, please log in or contact Mederi Center at 541.488.7598.
Please CLICK HERE  to log in and place an order. Your USERNAME and PASSWORD are required to log in. 
Practitioners:
If you are a practitioner interested in establishing services with our Apothecary, please CLICK HERE to apply for an account, or call 541.488.7598 to speak with our Order Fulfillment team.
Established practitioners can either call Order Fulfillment at 541.488.7598, fax a product authorization form to 541.488-6949, or CLICK HERE for information on how to place an order, or to download our catalog and order form.