Oscar Sierra, Certified Herbalist, RH (AHG)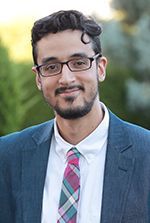 Mr. Oscar Sierra brings more than a decade of clinical experience to Mederi Center®, blending Traditional Chinese Medicine with modern Functional Medicine. He holds a Bachelor of Science in Nutrition Science from the University of Georgia and is board-certified in Herbal Medicine, Acupuncture, and Biomedicine through the National Certification Commission for Acupuncture and Oriental Medicine (NCCAOM). Oscar is licensed to practice Acupuncture in the state of Georgia. He is also a registered herbalist through the American Herbalists Guild. As a Mederi Center® clinician, Oscar offers the following modalities in his work with clients: Chinese Medicine, Lifestyle and Dietary Medicine, as well as Chinese, Western, and Ayurvedic Herbalism.
Oscar completed Mederi's advanced level clinical training course in the Eclectic Triphasic Medical System (ETMS/  Mederi Care®) with Donnie Yance in 2012 and is a Certified Mederi Care Practitioner. His practice focus involves working with cancer patients, as well as other difficult to treat chronic autoimmune and gastro-intestinal conditions. Oscar works collaboratively with other members of our Care Team – Mederi's founder Donnie Yance and Naturopathic Physician Dr. Susan Saccomanno.
Oscar's approach to healing is wholistic and client-centered, keeping the focus on the client rather than the disease by carefully examining their condition, constitution, outlook, and environment. This individualized approach employs treatment strategies that are tailored to the client and incorporate both ancient evidence-based Eastern approaches, as well as aspects of progressive Functional Western Medicine. These strategies typically include diet, lifestyle, and herbs as the main therapeutic modalities as well as supplements, and an occasional healthy dose of laughter - a personal favorite healing modality for Oscar.
In addition to his clinical work, Oscar is a speaker at various state, regional, and national herbal and functional/integrative medicine conferences. He also practices and teaches Martial Arts (2nd Dan Black Belt, Chi Budo Kwon) and enjoys volunteering with group acupuncture treatments for the homeless at a free community clinic in Georgia. He is an active member of the American Herbalists Guild (AHG), International College of Integrative Medicine (ICIM), National Association of Environmental Medicine, and the Society for Integrative Oncology (SIO). 
"While I am endlessly enthralled with science, I find resonance in the art of medicine. At the heart of that is connection. My role is to find that connection with clients and in turn help them become aware of connection with their True self to facilitate the deepest healing and best outcomes possible."
"True wholistic medicine is far from cookie-cutter, and as practitioners we start digging in and intervening at different junctions in the web of health depending on a myriad of factors.  Incorporating the ETMS framework into my practice has helped remind both the clients and me as a clinician to make sure all aspects of that web are addressed so as to ensure proper success and sustainability."
Areas of specialty include:
Cancer
Autoimmune
Gastrointestinal
Allergies 
Insomnia
Thyroid imbalance
Chronic fatigue
Diabetes
Environmental medicine
Cardiovascular disease
Psycho-emotional issues, including: Stress, anxiety, depression
Chronic pain
Chronic fungal infections
"Oscar is well-versed in a broad spectrum of conditions and focuses on fostering health rather than just eliminating symptoms. One of our family members has been in treatment for cancer, and along the way he has provided us with relevant herbs and supplements, as well as nutrition and lifestyle advice. These things have made a huge difference in mitigating the side effects of her treatments, to the point that the oncologists have expressed confusion and surprise at how well she was doing, considering the intense treatments she was going through." ~ A. Kadogo