Dr. Pamela's Blog
The Surprising Power of Pepper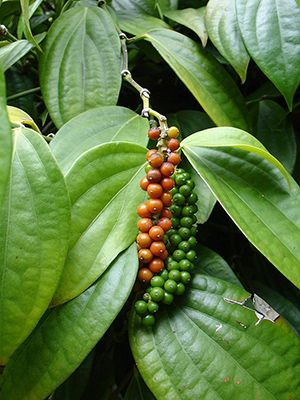 Who doesn't love grinding fresh pungent black pepper on a crisp salad, roasted cauliflower, or even on popcorn? Grown in tropical places such as India and Vietnam, black pepper or Piper nigrum (often interchanged with Piper longum) is the boiled then dried unripe fruit. This wonderful culinary herb has been spicing up our foods for centuries. It was even used as a form of currency in some parts of ancient Greece and was a part of the mummification process in ancient Egypt. In addition to its longstanding culinary value, black pepper has many medicinal uses as well.   
 
The Eclectics used black pepper in tincture form as a carminative (digestive aid especially for gas, bloating and cramping), for congestive chills, and for gastric atony.1 In Ayruvedic medicine, black pepper is used to increase stomach fire and digestion, and is commonly added to other herbal combinations. In 1979, it was discovered that piperine, the alkaloid in pepper considered to be its most active ingredient, has the ability to enhance the bioavailability of other active agents found in drugs and herbs. This resulted in a new class of drugs called bioenhancers. Piperine is still considered one of the most effective bioenhancers known.2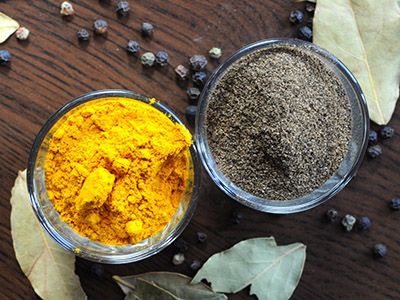 Many studies demonstrate that black pepper increases the absorption of curcumin, a therapeutic compound found in turmeric, another common spice. One study showed absorption was increased up to 2000%!3 This special relationship between pepper and curcumin isn't unique. In fact, pepper increases the bioavailability of many herbs, nutrients, vitamins, and even pharmaceuticals. The amount of research on pepper's positive absorptive effects on drugs and nutrients is a bit overwhelming. Everything from folates, zinc, magnesium, potassium, manganese, all the B vitamins, EGCG in green tea, CoQ10, glutathione, and resveratrol to ibuprofen, atenolol, carbamazepine, cisplatin, losartan, penicillin, and amoxicillin -- the list goes on and on.4 
Pepper achieves this effect through multiple mechanisms. It slows down gastric emptying,5 increases the permeability of the intestinal mucosa, and increases the activity of enzymes like γ-glutamyl transpeptidase, which participate in active and passive transport of nutrients to the intestinal cells.6 It also increases blood flow to the GI tract and impacts the liver in its biotransformation of drugs.7
As with so many of our culinary spices, black pepper exhibits wonderful anti-microbial properties. It is effective even with difficult to eliminate mycobacterium such as tuberculosis.8 One amazing study looked at black pepper's ability to kill the larvae of the Anopheles mosquito known for its ability to transmit malaria. Notably, the study found that black pepper is equally lethal to larvae that are insecticide susceptible, as well as those that are insecticide resistant.9 Given the deleterious effects of insecticides, and the growing amount of insecticide resistance, this has the power to be a game changer in the management of malaria throughout many parts of the world. 
Pepper has been utilized in Chinese medicine for neurological support with attributes of mood regulation, cognition support, and as an anti-convulsive therapy. Modern research is catching up with these traditional uses by documenting studies that validate them. In one such study, piperine is found to modulate several of our key neurotransmitters, including serotonin, epinephrine, and GABA.10 Furthermore, it is found to delay the onset of tonic clonic seizures.11 Recently, researchers have been looking into using pepper therapeutically to increase cognition, especially in Alzheimer's disease. In a mouse model, piperine showed significant memory improvement and even neurotropic (nerve growth/regeneration) in the hippocampus -- the area of the brain where long term memories are formed.12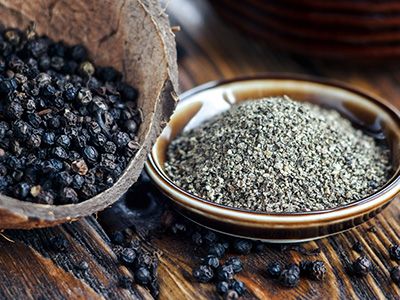 There is also a place for black pepper in the world of cancer prevention and treatment. Piperine has demonstrated protection from oxidative damage by quenching free radicals and reactive oxygen species. It lowers lipid peroxidation and decreases oxidative stress by helping out other antioxidant molecules, enzymes, and thiol status.13 There are many studies that show piperine to be chemoprotective to normal cells and suppressing to cancer stem cells.14 Piperine is also found to inhibit proliferation and survival of several cancer lines and to increase apoptotic (programmed cell death) rates. It is shown to inhibit invasion, metastasis, and angiogenesis (creation of new cancer related blood vessels), and is directly cytotoxic. Piperine is even found to have antimutagenic activity.15 Essentially, black pepper is able to protect healthy cells, kill cancer cells, and positively impact our health by making every stage of cancer growth harder for the cancer cells.
Like so many of the plants with which humans have a deep relationship, humble black pepper impacts our physiology in such beautiful and profound ways. I hope that learning some of the beneficial aspects of pepper increases your enjoyment of it as a condiment and that it finds a spot into your herbal formulations. While there is much focus on the active alkaloid piperine, black pepper contains hundreds of active constituents working in concert together. Don't forget to add pepper towards the end of cooking, because many of these beneficial constituents, like the terpenes and piperine itself, are sensitive to high heat.
References
Felter, J.W.The Eclectic Materia Medica Pharmacology and Therapeutics.  Sandy,Eclectic Medical Publications 2002. pg 546Atal N, Bedi KL. Bioenhancers: Revolutionary concept to market. J Ayurveda Integr Med. 2010;1(2):96–99. doi:10.4103/0975-9476.65073
Shoba G, Joy D, Joseph T, Majeed M, Rajendran R, Srinivas PS. Influence of piperine on the pharmacokinetics of curcumin in animals and human volunteers. Planta Med. 1998 May;64(4):353-6. doi: 10.1055/s-2006-957450. PubMed PMID: 9619120.
Dudhatra GB, Mody SK, Awale MM, et al. A comprehensive review on pharmacotherapeutics of herbal bioenhancers. ScientificWorldJournal. 2012;2012:637953. doi:10.1100/2012/637953
Bajad S, Bedi KL, Singla AK, Johri RK. Piperine inhibits gastric emptying and gastrointestinal transit in rats and mice. Planta Med. 2001 Mar;67(2):176-9. doi: 10.1055/s-2001-11505. PubMed PMID: 11301872.
Johri RK, Thusu N, Khajuria A, Zutshi U. Piperine-mediated changes in the permeability of rat intestinal epithelial cells. The status of γ-glutamyl transpeptidase activity, uptake of amino acids and lipid peroxidation. Biochemical Pharmacology. 1992;43(7):1401–1407.
Majeed M, Badmaev V, Rajendran R. Use of piperine as a bioavailability enhancer. United States Patent Number, 5744161, 1998.
Hegeto LA, Caleffi-Ferracioli KR, Perez de Souza J, Almeida AL, Nakamura de Vasconcelos SS, Barros ILE, Canezin PH, Campanerut-Sá PAZ, Scodro RBL, Siqueira VLD, Teixeira JJV, Cardoso RF. Promising Antituberculosis Activity of Piperine Combined with Antimicrobials: A Systematic Review. Microb Drug Resist. 2019 Jan/Feb;25(1):120-126. doi: 10.1089/mdr.2018.0107. Epub 2018 Aug 10. PubMed PMID: 30096263.
Samuel M, Oliver SV, Coetzee M, Brooke BD. The larvicidal effects of black pepper (Piper nigrum L.) and piperine against insecticide resistant and susceptible strains of Anopheles malaria vector mosquitoes. Parasit Vectors. 2016 Apr 26;9:238. doi: 10.1186/s13071-016-1521-6. PubMed PMID: 27117913; PubMed Central PMCID: PMC4847181.
Wattanathorn J, Chonpathompikunlert P, Muchimapura S, Priprem A, Tankamnerdthai O. Piperine, the potential functional food for mood and cognitive disorders. Food Chem Toxicol. 2008 Sep;46(9):3106-10. doi: 10.1016/j.fct.2008.06.014. Epub 2008 Jun 29. PubMed PMID: 18639606.
Mishra A, Punia JK, Bladen C, Zamponi GW, Goel RK. Anticonvulsant mechanisms of piperine, a piperidine alkaloid. Channels (Austin). 2015;9(5):317-23. doi: 10.1080/19336950.2015.1092836. PubMed PMID: 26542628; PubMed Central PMCID: PMC4826125
Chonpathompikunlert P, Wattanathorn J, Muchimapura S. Piperine, the main alkaloid of Thai black pepper, protects against neurodegeneration and cognitive impairment in animal model of cognitive deficit like condition of Alzheimer's disease. Food Chem Toxicol. 2010 Mar;48(3):798-802. doi: 10.1016/j.fct.2009.12.009. Epub 2009 Dec 23. PubMed PMID: 20034530.
Srinivasan K. Black pepper and its pungent principle-piperine: a review of diverse physiological effects. Crit Rev Food Sci Nutr. 2007;47(8):735-48. doi: 10.1080/10408390601062054. Review. PubMed PMID: 17987447.
Zadorozhna M, Tataranni T, Mangieri D. Piperine: role in prevention and progression of cancer. Mol Biol Rep. 2019 Oct;46(5):5617-5629. doi: 10.1007/s11033-019-04927-z. Epub 2019 Jul 4. Review. PubMed PMID: 31273611.
Manayi A, Nabavi SM, Setzer WN, Jafari S. Piperine as a Potential Anti-cancer Agent: A Review on Preclinical Studies. Curr Med Chem. 2018;25(37):4918-4928. doi: 10.2174/0929867324666170523120656. Review. PubMed PMID: 28545378.
---