Benefit Concert
Together We Heal: A Musical Gala Featuring Gino Vannelli to Benefit Mederi Center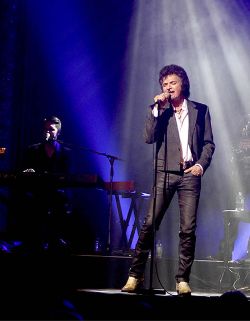 Seating is limited! Early, advance ticket purchase is highly encouraged!
Buy tickets now.
Tickets also available on EventBrite!
On Friday, November 22, 2019 Mederi Center, an internationally acclaimed healthcare organization will host a musical gala event called Together We Heal: Spirit, Mind, Body to Benefit Mederi Center - Transforming Healthcare, Changing Lives at the Warehouse at Fairfield Theater Company in Fairfield, CT (only 50 miles from Manhattan, 55 miles from JFK, and 25 miles from New Haven!). 
This world-class musical event will feature legendary pop music phenomenon Gino Vannelli, with special guest, award-winning jazz singer Roberta Gambarini and comedian Jeffrey Gurian as the emcee. 

Tickets
VIP Experience – $500 – Includes a 4-course dinner, beer and wine, and priority, reserved seating
Gala Admission – $175 – Includes hors d'oeuvres, beer and wine, and theater or mezzanine seating
Meet-And-Greet Add-On - $100 - Meet Gino Vannelli during sound check with autographed photo opportunity 
Click here to purchase tickets, or to help sponsor this event.
Tickets also available on EventBrite.
About the Evening
The program begins at 4 pm with an optional Meet-And-Greet and autographed photo with Gino Vannelli during sound check. Doors open at 5:15 pm for VIP ticket holders and at 6 pm for Gala Admission guests, with food service until 7 pm. The evening's entertainment begins at 7 pm with an opening monologue by our emcee, followed by music provided by Mederi Foundation Founder and President Donnie Yance and his band. The main act with Gino Vannelli and special guest Roberta Gambarini follows from 8:30 – 10 pm.
About the Artists
Gino Vannelli is a Grammy-nominated, Gold, Platinum, and Juno award-winning singer, songwriter, producer, composer, poet, arranger and band leader. With over 20 million records sold worldwide, Gino is a powerful and innovative live performer of rock, jazz, and soul. This year he released his 20th album titled "Wilderness Road", a brand new collection of recently written songs on his acoustic guitar. Billboard top hits in the 70's and 80's include "I Just Wanna Stop", "Living Inside Myself", "People Gotta Move", "Wildhorses", "Nightwalker", and "Black Cars".
Joining Gino Vannelli is special guest Roberta Gambarini. Named twice the "Female Jazz Singer of the Year", Roberta is a two-time Grammy award nominee widely recognized for her extraordinary talent by many of the greatest jazz musicians in the world. A fixture on the international jazz circuit, Roberta  has appeared in concert and on record with many legendary jazz giants including Dave Brubeck, Hank Jones, and Herbie Hancock.
Emcee Jeffrey Gurian is a comedy writer, comedian and author. You've seen him on Comedy Central, AXS TV,  and heard him on SiriusXM Radio. He's also the host of Comedy Matters TV. His newest book "Healing Your Heart, By Changing Your Mind - A Spiritual and Humorous Approach To Achieving Happiness" recently hit best-seller status on Amazon. His book will be available for signing the night of the event. 
In addition to being a renowned healer, Mederi Center's President and Founder Donnie Yance is also an accomplished bass player and composer. Accompanying Donnie for this special evening are two of his bandmates from Ashland, Oregon, David Bolen and Jack Hopfinger, along with Tony Hayes.
The event will also highlight information about Mederi Center including brief video interviews with individuals who have benefited from its services and programs. Donnie Yance, the Foundation's Founder and President, and the Center's Lead Clinician, said there is much excitement about the concert and he looks forward to the opportunity to share more about Mederi's story at this world-class musical event. 
"Gino Vannelli is my number one favorite musician in the whole world. I consider him the greatest composer, writer, arranger and vocalist alive. He has excelled in every genre of music, including pop, rock, jazz, soul, and even classical. I also really appreciate who Gino is as a person - he is a deep, beautiful and spiritual being."
About Mederi Center
Mederi Center is a nonprofit clinic, research, and educational organization for wholistic health and healing. The mission of Mederi Center is to optimize health and wellness for people of all ages, and to improve the quality of life and outcomes for patients with chronic diseases, cancer, and stress or age-related conditions. Mederi Center serves its mission through patient services, education programs for healthcare providers, and clinical research initiatives, applying a pioneering, 'unitive' model for wholistic, integrative medicine developed by its founder Donnie Yance.
The Mederi Care model, which includes botanical and nutritional medicine, often in concert with allopathic medicine, has yielded outstanding results in thousands of cases. Mederi Care practitioners have a mastery of the art and science of complementary, integrative and wholistic medicine and apply a comprehensive protocol to successfully address the many underlying factors involved in overcoming or resisting ill health and restoring and sustaining optimal health. 
Mederi Medicine is the future of healthcare! The Together We Healbenefit concert is designed to raise program funds for Mederi Center and inspire appreciation of music as a source for healing spirit, mind and body. We hope you'll join us for an unforgettable evening!
For more information about Mederi Center, visit medericenter.org or call 541.488.0514.
With thanks and gratitude to our benefit committee volunteers Barbara Slaine, Lynn Grossman, Shirley Berenstein, Susan Mufson, Jeannine Egdorf Phelan, Joan Alexander, and Kathleen Schoen.