Forest Bathing for Health and Healing
authored by Taylor Appel, Registered Herbalist (AHG)
Considered the world's largest environmental movement, Earth Day is celebrated on April 22. This year's theme is "Invest in Our Planet", which highlights the importance of dedicating our time, resources, and energy to solving climate change and other environmental issues. Investing in our planet is necessary to protect it and the best way to pave a path towards a prosperous future.
To honor this important and necessary movement, we focus this month's blog on a practice that is all about reclaiming our inherent connection with nature -- forest bathing. By nurturing a relationship with nature, we are more inspired to take care of and protect it. So, this Earth Day, and every day, consider implementing some aspect of forest bathing described below, as an act of healing for yourself, and for the planet.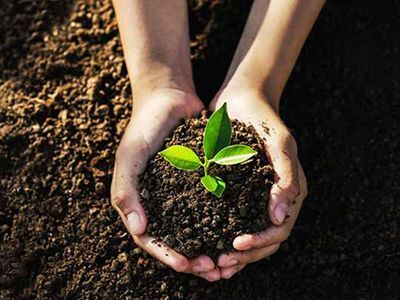 What is Forest Bathing?
Forest bathing is a practice of immersing yourself in nature in a mindful way, using your senses to derive a whole range of benefits for your physical, mental, and emotional health. It has profound therapeutic effects, both physiological and psychological, further illuminating the wondrous healing potential of nature.
Forest bathing as a form of nature therapy originated in Japan, where the practice is called Shinrin-Yoku. 'Shinrin' means forest and 'Yoku' stands for bathing. Gaining popularity in the 1980's, Shinrin-Yoku became a widely used therapeutic approach to addressing numerous health conditions and was also utilized in preventive care models.1
Forest Bathing Reduces Stress
Stress leads to dysregulation of numerous systems in the body and can have detrimental effects on emotional and physical well-being. Japanese medicine recognizes forest bathing as an essential component of health promotion and is esteemed for its profound effect on our stress response. Japanese medicine also highlights the importance of controlling stress levels to improve overall health and support optimal immune function.1,2 
The act of immersing oneself in nature allows our senses to be deeply affected by the sights, smells, and comfort of the serene forest landscape, thus helping to release tension throughout the mind and body. You can imagine why this practice has been found to dramatically modulate the stress response! 
Health Benefits of Forest Bathing
In addition to decreasing stress, research conducted over forty years also shows a wide range of other health benefits to Shinrin-Yoku, including improved mood states, a variety of mental health benefits, improved vigor, reduced fatigue, and feelings of awe.1
More specifically, conditions affecting cardiovascular and respiratory health, immune system function, mood disorders, and nervous system health have all benefited from forest bathing.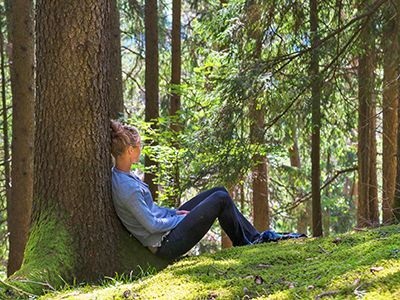 Here are some of the benefits:
Supports healthy blood pressure
Promotes memory and focus
Alleviates anxiety and depression
Supports healthy blood sugar / insulin levels
Promotes endocrine health
Alleviates allergies/respiratory diseases
Prevents cognitive decline1,2
By integrating a forest bathing practice into your approach to health, you can tap into its numerous benefits to support your well-being.1,2
Tips for the Practice of Forest Bathing 
What to Wear and Pack
It's best to go forest bathing in moderate weather, so that adverse weather doesn't add stress to your experience. Wear appropriate footwear for the terrain you'll be exploring. Be prepared for the elements by bringing extra clothing, rain gear, sunscreen, sunglasses, and a hat, and take snacks and water with you. 
Where to Go Forest Bathing
Look for a natural area or park with trees where you can be comfortable and relaxed. If you can, find a forest, park, or nature preserve with wide, flat and gentle walking paths. If this kind of setting is not easy to access where you live, find trees in an urban park where you can sit and enjoy the environment. The key is to find a place where you can experience a natural and beautiful outdoor setting, with a quiet atmosphere and fresh air.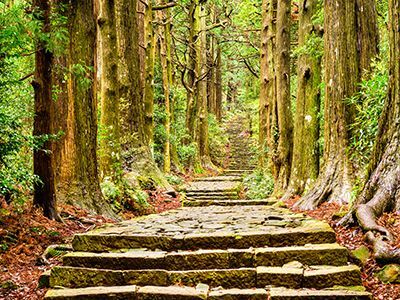 Leave Your Phone Behind
Minimize distractions and let yourself fully immerse in the forest or park environment. Turn off any electronic devices and stow them away in your pocket or pack. Better yet, leave them in your car if you are comfortable doing do.
Engage Your Senses
Forest bathing is an organoleptic experience, meaning it involves all the senses. Listen to the sounds of the forest. Look at the scenery surrounding you. Take slow deep breaths and smell the fragrance of the forest air. Touch the trees, feel the leaves and soil.
Walk Slowly and Stop Often
Forest bathing should be practiced at a slow, almost meditative pace. Take your time and look around as you meander on a forest path. Engage your senses and observe your surroundings. Stop occasionally to sit and be still.
Tips for Forest Bathing, without the Forest
What if you can't get to a forest or even a park where you live? The good news is that it's easy to receive the benefits of forest bathing, even if you're not able to immerse yourself in a forest environment. Utilize the tips below to mimic a forest bathing experience and enjoy the relaxing and restorative effects.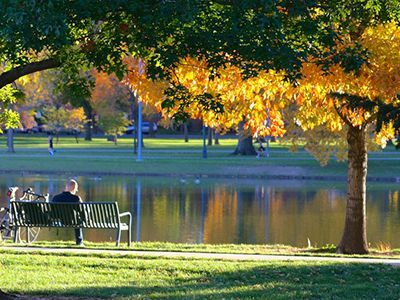 Play soothing natural sounds on a computer/device (rivers, birds, ocean waves, etc.)
Dim lights to lower, more golden tones (think sunrise/sunset colors)
Use an essential oil diffuser to diffuse scents of pine, clove, cedar, lavender (or any other relaxing scents)
Take a slow and meditative walk outside, even if it is not in "nature", and remember to engage your senses by taking in the sights, smells, and sounds of the landscape. 
To conclude, by regularly participating in forest bathing we can support the physiological and psychological components of health, while nurturing our relationship with the natural world and our beautiful planet. We hope you'll integrate some of these tips for forest bathing into your daily or weekly routine, in support of a deeply healing, mind-body-spirit experience.
---
Join the Mederi Center community by signing up for our email list! We send several emails a month with product promotions for patients, practical tips for healthy living, blogs written by our practitioners, information about events, and other news. You can unsubscribe at any time.

References
Hansen MM, Jones R, Tocchini K. Shinrin-Yoku (Forest Bathing) and Nature Therapy: A State-of-the-Art Review. Int J Environ Res Public Health. 2017;14(8):851. Published 2017 Jul 28. doi:10.3390/ijerph14080851 
Park BJ, Tsunetsugu Y, Kasetani T, Kagawa T, Miyazaki Y. The physiological effects of Shinrin-yoku (taking in the forest atmosphere or forest bathing): evidence from field experiments in 24 forests across Japan. Environ Health Prev Med. 2010;15(1):18-26. doi:10.1007/s12199-009-0086-9