Nourishing Winter Foods and Recipes
authored by Taylor Appel, Registered Herbalist (AHG)
When it comes to shopping for produce during the darker, colder months of winter, it may seem like there are fewer fresh options to choose from than there are in the summer months. In actuality, if we know what to look for, there are plenty of seasonal fruits and vegetables that are at their peak ripeness during this time of year. In fact, January is known for some of the juiciest citrus fruits, like oranges, grapefruit, and lemons. In the deep of winter, we can also find nutritious dark, leafy greens, including kale and collards, vitamin and mineral-packed root veggies, like beets and turnips, and a dynamic variety of winter squashes, like butternut and acorn. It's actually easier than you might think to incorporate seasonal, nutritious veggies into your winter meals!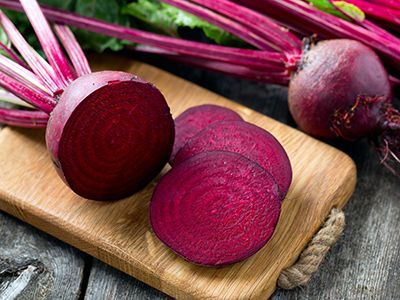 Seasonality of produce is defined by a few key factors. These include when the vegetable or fruit is at its peak natural ripeness, when it is plentiful, and when it's at its most delicious state for consumption. Most seasonal produce, when purchased during the correct time of year, will also be more cost effective as well. Some people even claim to crave certain seasonal produce that coincides with that specific time of year, highlighting just how in touch our bodies can be with the natural rhythms of the seasons. Additionally, buying the appropriate seasonal produce supports the natural order of the growing seasons. Also, when we buy produce from crops that are grown and harvested in the appropriate season, we put less burden on the environment by not supporting wasteful agricultural practices. Learning to utilize each season's offerings effectively can be both advantageous for the health of our planet and ourselves. 
Winter is the perfect time to learn how to prepare meals at home. Not only are home cooked meals more nutritious than store bought or premade options, they can also provide us a unique kind of comfort. In addition, wintertime is a season notorious for colds and flus, and a nutritious, homemade meal can do wonders to help us feel better. There are many ways to utilize the seasonal bounty winter has to offer -- from a root vegetable stir fry, to soups, stews, and curries, as well as sweet dishes like citrus-themed desserts. There are so many recipes to explore for you and your family that utilize winter's produce offerings, which can also support immune system health. 
A few of my favorite immune-boosting, winter foods and recipes include:
Butternut Squash
This seasonal winter squash has a delicious, sweet taste and also packs a serious punch when it comes to its nutrient profile. Butternut squash is an excellent source for your daily B and C vitamins, as well as potassium, magnesium, manganese, and provitamin A. Provitamin A is what the body converts into retinal and retinoic acid, which are the active and usable forms of vitamin A used for cell growth, eye, bone, and immune health. Research has even linked regular brightly-colored, yellow and orange vegetable consumption with reduced risks for cardiovascular events. Butternut squash also contains a considerable amount of both soluble and insoluble fiber, which can be helpful in supporting long-term weight loss goals.1 It can be used in recipes just like potatoes or other starchy vegetables. Incorporate butternut squash into your favorite recipes or try this one below! 
Roasted Butternut Squash Kale Sauté
Prep Time: 10 mins
Cook Time: 40 mins
Total Time: 50 mins
Servings: 4 servings
Time saver: while the squash is roasting, prep the other ingredients. To make ahead, roast the cubed squash and prep the ingredients, then do a quick sauté before serving.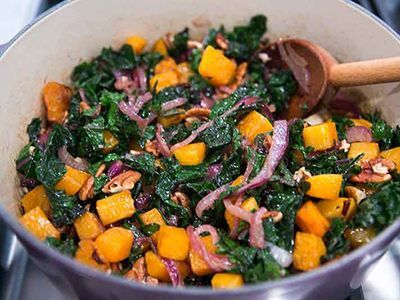 Ingredients
4 cups 3/4-inch cubes butternut squash (from about 1 3/4 pound whole small butternut squash)
1 teaspoon extra virgin olive oil
1 teaspoon balsamic vinegar
1/4 teaspoon salt
1 pinch black pepper
2 tablespoons extra virgin olive oil
1 large red onion, quartered and sliced (about 2 cups of sliced red onions)
3 cloves garlic, minced (about 1 tablespoon)
1 teaspoon balsamic vinegar
6 cups (about 1 bunch) kale, center ribs removed and sliced into 3/4-inch pieces
1/3 cup dried sweetened cranberries
1/2 cup slightly broken up pecans
1/4 teaspoon salt and pepper, to taste
Method
Roast cubed butternut squash: Preheat oven to 425°F. Place cubed butternut squash in a bowl and toss with olive oil, balsamic vinegar, salt and pepper. Spread out onto a lined baking sheet. Roast in oven for 25 minutes or until the squash is cooked through and browned on the edges.
Sauté onions and garlic: Minutes into roasting the butternut squash, start on the onions. Heat olive oil on medium high heat in a thick-bottomed 4 to 5 quart pot. Add the sliced red onion and toss to coat. Let cook for 7 to 8 minutes until softened. Add the garlic and cook a minute more.
Add balsamic and kale: Add the balsamic vinegar and the shredded kale. Stir until the kale is mixed well with the onions (it helps to use tongs to turn over the kale). Let cook for a minute or two until the kale is just wilted (don't overcook).
Add roasted squash, dried cranberries, pecans: Stir in the roasted butternut squash, the dried sweetened cranberries, and pecans.
Add salt and pepper to taste.
Recipe and photo source: https://www.simplyrecipes.com/recipes/roasted_butternut_squash_kale_saute/
---
Lemons
Known for their mouth-puckering flavor, lemons are a versatile winter fruit that offers a good source of vitamin C and many health benefits. Specifically, vitamin C is widely known as a potent antioxidant, able to help us combat colds, flus, viruses and more, but it is less commonly known that this vitamin is also beneficial for heart health. Research has found that eating fruits high in vitamin C may actually reduce your risk of cardiovascular disease and adverse events. A compound in lemons called hesperidin also has cardioprotective benefits, including the ability to lower cholesterol.2 Additionally, lemons also contain citric acid, a compound that helps our bodies absorb iron from our food more efficiently, helping prevent anemia in those susceptible to lower iron levels.3,4 Check out this recipe below using lemons! 
Lemon Chicken Chickpea Soup
By Elise Bauer
Prep Time: 15 mins
Cook Time: 60 mins
Total Time: 75 mins
Servings: 4 to 6 servings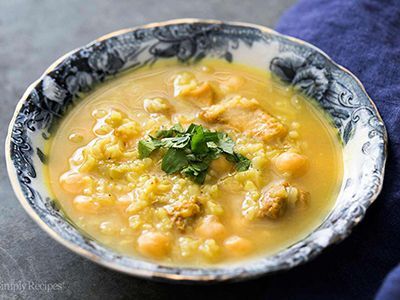 Ingredients
1 1/4 pounds boneless skinless chicken thighs, cut into 1-inch pieces
1 teaspoon salt
1 teaspoon ground turmeric
1 teaspoon ground cumin
1/2 teaspoon ground black pepper
2 tablespoons extra virgin olive oil
1 onion, chopped (about 1 1/2 cups)
1 celery rib, chopped (about 1/3 cup)
4 cloves garlic, minced (about 1 1/2 tablespoons)
1 teaspoon fresh ginger, grated  (or powdered ginger)
2 bay leaves
6 cups chicken stock
2-3 strips lemon zest from one lemon
2 tablespoons lemon juice
1/3 cup basmati rice
1 15-ounce can chickpeas, drained, or 1 1/2 cups cooked chickpeas
Cilantro or parsley for garnish
Method
Coat the chicken pieces with the spices: Whisk the salt, turmeric, cumin, and black pepper together in a medium bowl. Add the chicken pieces and toss with the spices to coat.
Brown the chicken in olive oil: Heat olive oil in a large, thick-bottomed soup pot on medium high. Add the chicken pieces and brown lightly on all sides, 5-7 minutes total. Remove chicken to a bowl and set aside.
Sauté onions, celery, garlic, ginger: Add the chopped onion and celery to the pot. Sauté until lightly browned, about 5 to 6 minutes. Add the garlic and ginger and cook a minute more.
Add chicken, stock, bay leaves, lemon zest strips, then simmer: Add the chicken pieces back to the pot. Add the stock, bay leaves, lemon zest strips. Bring to a simmer and simmer for 15 minutes.
Add rice, chickpeas, lemon juice, simmer: Add the rice, chickpeas, and lemon juice. Bring to a simmer and cook for 20 minutes, until the rice is cooked through.
Add salt pepper to taste: Remove bay leaves and lemon peel strips. Add salt and pepper to taste. Garnish with cilantro or parsley to serve.
Recipe and photo source: https://www.simplyrecipes.com/recipes/lemon_chicken_chickpea_soup/
---
Broccoli
Although it may not be everyone's winter veggie of choice, broccoli should at least be considered due to its extraordinary nutrient profile and potential health benefits. Besides the more obvious nutrients like vitamin C, potassium, folate, manganese, and iron, broccoli also contains numerous polyphenols that research finds to be very advantageous to our health. Specifically, sulforaphane, one of the most abundant medicinal compounds in broccoli, is widely revered as an anti-cancer compound. Sulforaphane actually occurs in 20-100 times higher amounts in broccoli sprouts than a crown of mature broccoli, but that doesn't mean don't eat your broccoli! Broccoli also contains numerous carotenoids like lutein and beta carotene, both aiding in optimal eye health, as well as quercetin, which has been found to help lower blood pressure for those with hypertension.5 Broccoli is a versatile ingredient that can be blended into soups, stir fried, or simply enjoyed raw. Check out this recipe below for inspiration! 
Healthy Glow Broccoli & Lemon Winter Salad
Prep Time: 10 mins
Cook Time: 20 mins
Total Time: 30 mins
Servings: 4 salads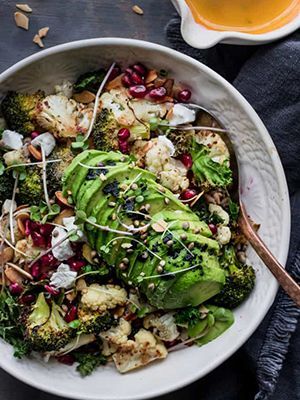 Ingredients
1 head broccoli cut into florets
1 head cauliflower cut into florets
1 cup kale packed
1 1/2 cups farro cooked
6 Tablespoons garlic olive oil divided
2 Tablespoons of za'atar middle eastern herb blend
2 Tablespoon white balsamic vinegar
1 lemon zest only
2 teaspoons honey
1 teaspoon chili pepper flakes
2 Tablespoons flaked almonds toasted
Garnishes
2 Tablespoons Goat's cheese
2 Tablespoons pomegranate arils
2 Tablespoons toasted almonds
2 Tablespoons hemp seeds
1 avocado
Microgreens
Instructions
Preheat the oven to 350 and toss the cauliflower and broccoli in 2 Tablespoons of garlic olive oil. Sprinkle with the za'atar and season with salt and pepper.
Roast on a baking tray for about 20 minutes, or until the cauliflower and broccoli are just starting to char. Add the kale to the tray and roast for a further 5 minutes, or until the kale is just crispy.
Meanwhile, make the dressing. Whisk the olive oil, balsamic, lemon juice, honey and chili flakes together. Season according to taste.
Place the faro into a serving bowl and top with the roasted vegetables. Drizzle the dressing over the salad and top some (or all) of the garnishes listed below.
Optional Garnishes
2 Tablespoons Goat's cheese
2 Tablespoons pomegranate arils
2 Tablespoons toasted almonds
2 Tablespoons hemp seeds
1 avocado
Microgreens
Recipe & salad photo source: https://saltedmint.com/healthy-glow-broccoli-lemon-winter-salad/
---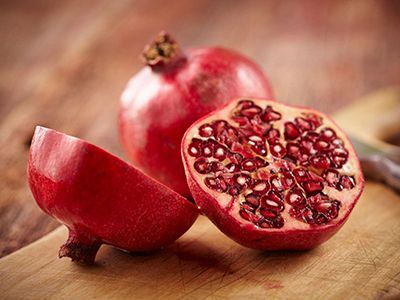 There are so many delicious recipes that utilize the bounty of winter's harvest. Depending on where you live, you may even have more options during this time of year. Consider adding the winter nutrient-packed produce options to your next grocery list and begin to enjoy the abundance that winter has to offer (some may not be available or seasonal, depending on where you live):
Kiwi
Sweet onions
Potatoes/Sweet potatoes
Pomegranates
Celery
Cauliflower
Carrots
Mangos
Parsley
Bananas 
Apples
Bok choy
Adding in seasonal produce to your daily routine can be supportive for both your own health and the health of our planet. Consider buying as local as possible in every season to mitigate your personal carbon footprint and provide your body the nourishment it needs to get through this winter season. 
Join the Mederi Center community by signing up for our email list! We send several emails a month with product promotions for patients, practical tips for healthy living, blogs written by our practitioners, information about events, and other news. You can unsubscribe at any time.

References
Wang JB, Fan JH, Dawsey SM, et al. Dietary components and risk of total, cancer and cardiovascular disease mortality in the Linxian Nutrition Intervention Trials cohort in China. Sci Rep. 2016;6:22619. Published 2016 Mar 4. doi:10.1038/srep22619
Lv X, Zhao S, Ning Z, et al. Citrus fruits as a treasure trove of active natural metabolites that potentially provide benefits for human health. Chem Cent J. 2015;9:68. Published 2015 Dec 24. doi:10.1186/s13065-015-0145-9
Choi GS, Lee S, Jeong TS, et al. Evaluation of hesperetin 7-O-lauryl ether as lipid-lowering agent in high-cholesterol-fed rats. Bioorg Med Chem. 2004;12(13):3599-3605. doi:10.1016/j.bmc.2004.04.020
Ballot D, Baynes RD, Bothwell TH, et al. The effects of fruit juices and fruits on the absorption of iron from a rice meal. Br J Nutr. 1987;57(3):331-343. doi:10.1079/bjn19870041
Fahey JW, Zhang Y, Talalay P. Broccoli sprouts: an exceptionally rich source of inducers of enzymes that protect against chemical carcinogens. Proc Natl Acad Sci U S A. 1997;94(19):10367-10372. doi:10.1073