Superfoods: Nature's Most Nutritious Offerings
authored by Taylor Appel, Registered Herbalist (AHG)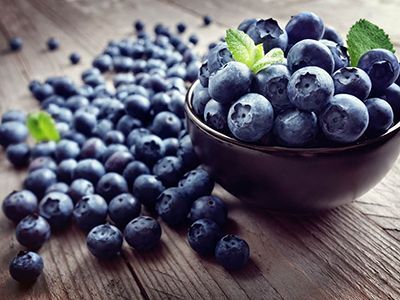 Superfoods are becoming increasingly popular, but what are they exactly? Many studies claim that various fruits, vegetables, and other foods may provide profound health benefits due to the polyphenols, or chemicals found in the specific plant, giving them super-nutrient characteristics. Other foods derive their super title by simply being extremely nutrient rich.1,2 Adding various superfoods to our daily diet is a great way to pump-up the nutrient value of any snack or meal, and support overall health and vitality.   
Superfoods are trending in the nutritional world, and for many great reasons! Superfoods, such as dark berries, cruciferous vegetables, dark leafy greens, and many more, are finally being recognized for their potent nutritional value, and even profound health benefits. Superfoods are jam-packed with vitamins, minerals, antioxidants, and more, helping to nourish the immune system and keep us thriving.
The best way to incorporate superfoods into your diet is by eating a variety of nutrient dense foods daily, aiming to eat the rainbow each day! The reason this saying is so popular is because it helps us to understand that there is not one "perfect food", even if it is a superfood, and it highlights that we need to eat a variety of nutrient-dense foods to fuel our body optimally and prevent degenerative diseases like autoimmune disorders and cancers.1,3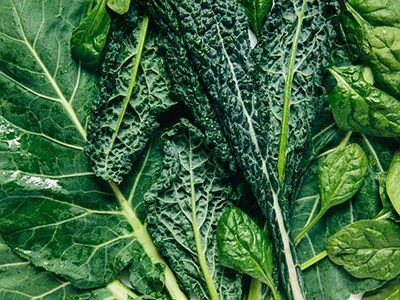 Categories of superfoods include numerous plants and animal-based foods. The scientific community is actively researching and discovering the nutritional properties of many foods that fall under this category as well. As we continue to discover and recognize the importance of adding these nutrient dense foods into our daily diet, superfood options will continue to become more popular and hopefully more accessible for all to enjoy! 
Below are just a few of my favorite superfoods that not only provide a powerful nutritional punch but are also delicious, and can be used in a variety of preparations, including the recipes suggested that follow.


Favorite Superfoods
Dark Berries
Certain fruits, specifically darker red and purple berries, have an incredible nutrient profile that includes antioxidants such as anthocyanins and phenolic compounds that contribute tremendously to their superfood characteristics. Research has highlighted these compounds specifically for having cardioprotective properties, or heart-healthy benefits, as well as being highly nourishing for the blood and brain, and for supporting detoxification pathways and liver health.4 
Blueberries, pomegranates, cherries, currants, raspberries, and many other berries in this category live up to their superfood claim-to-fame as they are highly nutrient dense, with most containing a considerable amount of our daily nutrient needs of specific vitamins and minerals. Dark berries contain significant amounts of vitamin C, vitamin K, fiber, and more, making them a healthy addition to smoothies, yogurts, and in both sweet and savory preparations.3,4
Fatty Fish
Beyond being a phenomenal source of protein, fatty fish are rich in anti-inflammatory nutrients such as omega 3-fatty acids. Omega 3-fatty acid has been extensively researched for providing numerous health benefits, including aiding in the prevention of many degenerative diseases, including heart disease, Alzheimer's and brain-related conditions, and various cancers.5 Fattier fish, like salmon, trout, sardines, anchovies, herring, and mackerel, provide a plethora of vitamins and minerals as well, easily earning them their superfood reputation. Try incorporating fatty fish into your diet at least three times per week to receive the full benefits of this nutrient dense food.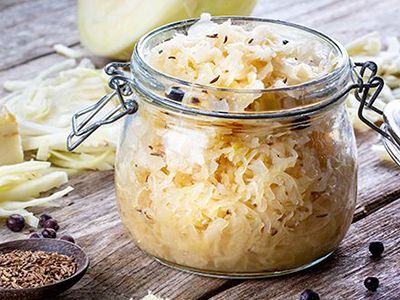 Fermented Foods
From kimchi to sauerkraut, each culture and region of the world has a staple fermented food or side dish that is regularly enjoyed. This is no coincidence, and in fact, fermentation is a remarkable process that not only extends the shelf-life of foods, preserving them for days or even years, but it also increases the nutritional value of the food as well.6 Probiotics of living bacterial organisms are created during the fermentation process and is what gives most fermented foods their distinct bubbling appearance and complex flavor profile. 
Besides being delicious, fermented foods provide the gut microbiome, the living environment in our gastrointestinal tract, with the proper bacteria needed to thrive and optimize our immune system health. Fermented foods have been extensively researched for not only promoting healthy digestion and absorption of nutrients, but they have also been linked to potential cognitive and neurological benefits as well, further highlighting the power of the gut-brain connection! Other fermented foods you should regularly include in your diet include yogurt/kefir, aged cheeses, kombucha, tempeh, natto, miso, and sourdough bread and baked goods.7 
Additional Super Nutritious Superfoods: 
Dark leafy greens (kale, collards, arugula, etc.)
Nuts and seeds (flaxseeds, almonds, walnuts, etc.) 
Healthy fats (coconut, olive, grass-fed butter/ghee, etc.) 
Spirulina and Chlorella algae 
Whole grains 
Legumes 
Cruciferous vegetables (cabbage, broccoli, etc.)1,3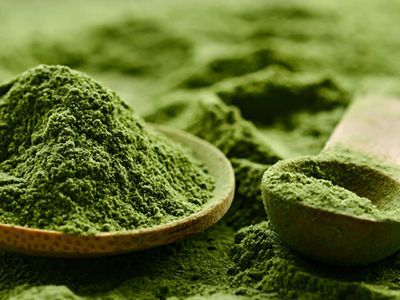 Natura Health Products®, founded by Donnie Yance, also makes a supplement called N-Liven™, which provides a variety of superfoods all in one convenient serving. This is a great option for those struggling to incorporate whole food superfoods into the daily diet or for those wanting to provide their immune system with additional support. The N-Liven™ greens powder contains a variety of nutrient-dense green vegetables, fruits, and herbs to increase the nutritional diversity of the formula and mimic our naturally diverse, colorful diet. This superfoods formula also makes a great addition to smoothies, yogurt bowls, and juices for an additional nutrient boost.
---
Superfood Recipes
The superfood recipes below are easy to prepare, satisfying and delicious, are budget friendly, and offer a mega dose of nutrients with each serving! This collection of recipes is also customizable for your dietary preferences and needs. Try swapping out the fruits and vegetables for other seasonal favorites available in your area. Honey or maple syrup can be used to replace traditional sugar for even more nutritional benefits, and healthy fats such as olive, avocado, ghee, and coconut oil can be added for even more superfood goodness. Here are some superfood-filled breakfast, lunch, and dinner ideas for your culinary inspiration!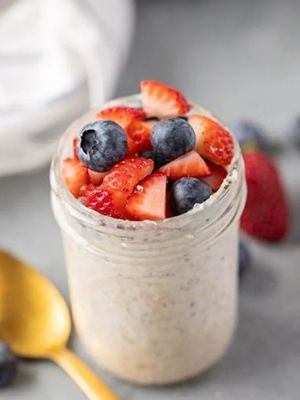 BREAKFAST
CocoNutty Overnight Oats
Ingredients
1/4 cup organic oats
1/2 teaspoon cinnamon
1/2 teaspoon pure vanilla extract
1 tablespoon flax seeds (or hemp seeds or chia seeds)
1 tablespoon unsweetened shredded coconut
1 tablespoon of sliced almonds, or nut of choice
1/3 cup milk (dairy or non-dairy)
1/4 cup Greek yogurt
Pinch of sea salt
1/4 cup dark berries or seasonal fruit, bit size pieces
Instructions
In a medium size bowl, mix the oats, yogurt, cinnamon, flax seeds, coconut, sea salt, and almonds.
Pour in the milk and mix well until incorporated.
Seal the bowl with a lid or make individual mason jars filled for breakfast on the go.
Refrigerate so that they can soak overnight and "cook". 
Enjoy in the morning and garnish with fresh berries (or seasonal fruits) and a dollop of Greek yogurt. 
Recipe Source: Heart healthy overnight oats. The Harvest Kitchen. (2022, July 17). Retrieved September 25, 2022, from https://www.theharvestkitchen.com/heart-healthy-overnight-oats/
---
LUNCH
Sheet Pan Salmon With Kale, Orange, and Farro
Ingredients 
1 medium orange
1 tablespoon olive oil
sea salt
pepper
1 cup kale, collard greens, or arugula leaves, chopped
4 ounces salmon fillet, skin removed (optional)
¾ cup cooked farro (or quinoa)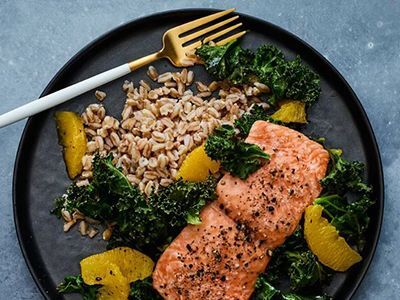 Instructions
Heat oven to 450° and line a sheet pan with parchment paper.
Remove skin and pith from orange. Working over a bowl, separate orange segments and squeeze any remaining juice into bowl. 
Add oil and season with salt and pepper. 
Add kale/greens and toss to coat. 
Spread kale and orange mixture on sheet pan.
Season salmon liberally with salt and pepper on all sides and place on top of the kale/greens mixture. 
Roast 7 to 10 minutes (the thicker your fillet, the longer it will take) for medium rare. If you like your salmon more well done, remove kale/greens and orange mixture from pan after 10 minutes and cook salmon an additional 3 to 5 minutes.
Add farro to oven in oven-safe dish to warm through. 
Serve salmon and vegetables over farro, allowing the citrus and juices to dress the grains.
Recipe & Image Source: Christine Byrne, M. P. H. (2017, December 18). Sheet pan salmon with kale, orange, and Farro. SELF. Retrieved September 25, 2022, from https://www.self.com/recipe/sheet-pan-salmon-kale-orange-farro
---
DINNER
Chicken & White Bean Soup 
Ingredients
2 teaspoons extra-virgin olive oil
2 leeks, white and light green parts only, cut into 1/4-inch rounds
1 tablespoon chopped fresh sage, or 1/4 teaspoon dried
28 oz organic chicken broth (bone broth is best!)
2 cups water
1 cup kale/dark greens, chopped
15 oz cannellini beans, drained and rinsed
4 cups roasted organic chicken, shredded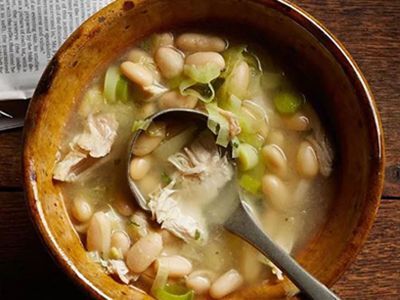 Instructions
Heat oil in a Dutch oven over medium-high heat. 
Add leeks and cook, stirring often, until soft, about 3 minutes. 
Stir in sage and continue cooking until aromatic, about 30 seconds. 
Stir in broth and water, increase heat to high, cover and bring to a boil. 
Add beans and chicken and cook, uncovered, stirring occasionally, until heated through, about 3 minutes. 
Lastly, add the greens and cook just until they are wilted. 
Serve hot and enjoy!
Recipe & Image Source: Kitchen, E. W. T. (n.d.). Chicken & White Bean Soup. EatingWell. Retrieved September 25, 2022, from https://www.eatingwell.com/recipe/248881/chicken-white-bean-soup/ 
Remember, always talk to your healthcare provider before making changes to your daily diet to ensure you are adding the most supportive food choices for your specific health goals.
---
Join the Mederi Center community by signing up for our email list! We send several emails a month with product promotions for patients, practical tips for healthy living, blogs written by our practitioners, information about events, and other news. You can unsubscribe at any time.

References
Van den Driessche JJ, Plat J, Mensink RP. Effects of superfoods on risk factors of metabolic syndrome: a systematic review of human intervention trials. Food Funct. 2018;9(4):1944-1966. doi:10.1039/C7FO01792H
Superfoods or superhype? The Nutrition Source. (2019, October 28). https://www.hsph.harvard.edu/nutritionsource/superfoods/
Yance, D. R. (2013). Adaptogens in medical herbalism: Elite herbs and natural compounds for mastering stress, aging, and chronic disease. Healing Arts Press.
Basu A, Rhone M, Lyons TJ. Berries: emerging impact on cardiovascular health. Nutr Rev. 2010;68(3):168-177. doi:10.1111/j.1753-4887.2010.00273.x
Ruxton C. Health benefits of omega-3 fatty acids. Nurs Stand. 2004;18(48):38-42. doi:10.7748/ns2004.08.18.48.38.c3668
Kim B, Hong VM, Yang J, Hyun H, Im JJ, Hwang J, Yoon S, Kim JE. A Review of Fermented Foods with Beneficial Effects on Brain and Cognitive Function. Prev Nutr Food Sci. 2016 Dec;21(4):297-309. doi: 10.3746/pnf.2016.21.4.297. Epub 2016 Dec 31. PMID: 28078251; PMCID: PMC5216880.
Dimidi E, Cox SR, Rossi M, Whelan K. Fermented Foods: Definitions and Characteristics, Impact on the Gut Microbiota and Effects on Gastrointestinal Health and Disease. Nutrients. 2019;11(8):1806. Published 2019 Aug 5. doi:10.3390/nu11081806