Naturopathic Physician Position
Our Culture
We are an enthusiastic, talented, and dedicated group of practitioners and staff, with a passion for health and holistic healing. We're excited about empowering our patients with the tools and education they need to lead healthier, longer lives using botanical and nutritional medicine and supportive lifestyle practices. Our mission is to deliver the best possible care by providing personalized, comprehensive treatment plans, often in concert with allopathic medicine, to support optimal health and vitality. We are a hard-working and committed team that strives to be our best selves in our work, with each other, and the people we serve. If this sounds like a fit for you, please keep reading to learn more about our organization and employment opportunities.
Our Clinic and Foundation
Mederi Center is a non-profit 501(c)(3) clinic and educational organization for holistic health and healing. The mission of Mederi Center is to optimize health and wellness for people of all ages, and to improve the quality of life and outcomes for patients with chronic diseases, cancer, and stress or age-related conditions. Mederi Center serves its mission through patient services, education programs for healthcare providers, and clinical research initiatives, applying a pioneering, 'unitive' model for wholistic, integrative medicine developed by our founder and lead clinician, Donnie Yance. Mederi Center also collaborates with health care providers and medical institutions around the country and abroad.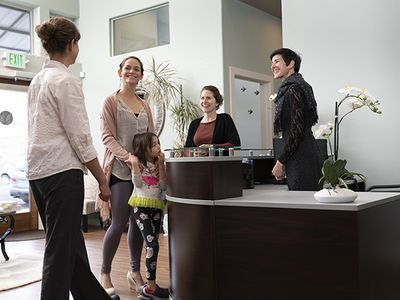 Naturopathic Physician Position Overview
We are an established healthcare clinic with an esteemed national reputation. We are seeking an experienced Naturopathic practitioner to join us in applying our whole-systems Mederi Care model to serve patients through our Ashland, Oregon clinic. The position also includes remote consulting. This is a unique opportunity to learn from and work alongside Donnie Yance, one of the most respected, seasoned, pioneering practitioners in the field of natural medicine with a specialization in integrative cancer care. Our Care Team also includes Donnie's longtime associates Dr. Susan Saccomanno, a naturopathic physician, and Certified Herbalist, Oscar Sierra, RH (AHG).
In addition, the position will also include the opportunity to be involved in the Mederi Academy, a 2-year accredited online learning program that will train healthcare practitioners around the world in Mederi Medicine and give them the skills they need to significantly improve quality of life and longevity for people facing cancer and other serious health challenges.
As a Mederi Center practitioner you will have access to our reputable Apothecary, which stocks 350+ single extract botanicals, 40+ dried botanicals, over 100 stock formulas formulated by Donnie Yance, and many brands of professional grade supplements, each researched and approved by our care team for their quality, purity, potency, and effectiveness. Our Apothecary and compounding services, staffed by our certified herbalists, supply patients and practitioners with custom-tailored products. We have an established client-base with a consistent volume of new patients needing treatment, giving you ample opportunity to grow your practice.
Requirements: The position requires a minimum of four years of clinical experience. The ideal candidate should possess a broad skill set, clinical proficiency, a positive attitude, and willingness to learn our specialized Mederi Care approach. Training via the Mederi Academy will be provided. An Oregon state license is required.
Status: Exempt part-time or full-time, salaried position (guaranteed base salary plus a tiered compensation program).
Benefits: We offer a competitive benefits package including a bonus structure, health insurance, paid time off plus bonus PTO program, holiday pay, product discounts and monthly product allowance. We offer a signing bonus plus a relocation package if needed.
Compensation is based on a per-patient, per-service model and bonuses based on achieving targeted revenue goals. All office furnishings, equipment, reception / scheduling, medical record filing, marketing support to grow your practice, and Client Liaison assistance is provided, along with peer-to-peer meetings with our lead practitioner and founder Donnie Yance to review patient cases as needed. Continuing education in Mederi Care via Mederi Academy will be provided.
Relocating? Ashland, Oregon is nestled at the base of the convergence of the Siskiyou and Cascade mountain ranges and has four beautiful seasons with more sunshine than you might expect for Oregon. Our cultural, culinary, and outdoor experiences are unmatched -- from performing to visual arts, film, festivals, and music, Ashland's community offers something for everyone. We enjoy a thriving restaurant scene, food artisans, farms, award-winning wineries and breweries, as well as quiet, natural beauty including mountains, lakes, rivers and ocean for hiking, skiing, birding, rafting, kayaking and peace of mind.

To apply: Please submit your resume and a cover letter to Claire McKenzie, Executive Administrator at jobs@mederifoundation.org
---