Botanical Allies for Allergies: Nettles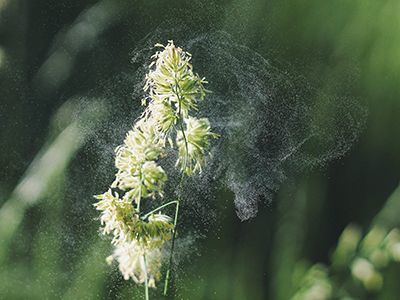 Treasures of spring include warmer weather, the budding of plants in our gardens, and the verdant growth of grass on our lawns and fields. With that also comes pollen, and for some the dreaded allergy season. Pollen allergy, although strongly seasonal, is one of the most common spring allergies, however, there are many other allergies that we can suffer from that can manifest at any time. 
An allergy is an exaggerated reaction of the immune system, which produces specific antibodies against an allergen. To act against this stimulus, the body releases large amounts of histamine, a substance present in cells that causes inflammation and other symptoms like sneezing, runny nose, scratchy throat, and itchy eyes.
Some of our best allies against allergies can be found in plant compounds, including a spring food called nettles, which can be found growing in gardens, in the wild, at farmer's markets, and at some specialty grocery stores. Stinging nettle contains antihistamine and anti-inflammatory properties that help reduce the body's production of symptom-causing histamine.
What are Nettles?
Nettle is an ancient plant that belongs to the Urticaceae family and has been used as a remedy since time immemorial. Remains dating back to the 3rd century BC have been found in Switzerland in lacustrine sites from the Neolithic era. Thanks to its composition, nettles is both food and medicine, having been used for centuries in traditional medicine1. 
Although its use in the kitchen has declined in recent years, nettle has been a highly appreciated throughout history. The ancient Greeks called it "acalyphe" and the Latins "urtica" which means "to burn", since the hairs of the nettle sting. Dioscorides particularly appreciated the virtues of the plant and described its use in detail2. During the Roman Empire, nettles were a basic ingredient in the kitchen and was one of the staple foods of the legionnaires. Nettle was also consumed during the Middle Ages.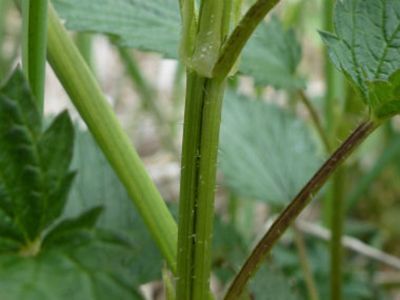 Why Nettles Sting
The main characteristic of the nettle is the hives that it produces when touched. This is thanks to the hairs they have on their leaves. The plant is often called "stinging nettles" because the hair-like structures on the leaves can sting and also produce itching, redness, and swelling. These hairs contain histamine and formic acid and produce a burning sensation on the skin when touched3. It's no wonder nettles are often considered a weed and overlooked as a healing food.
Healing Actions of Nettles
While it may be a weed to some, this remarkable plant has multiple medicinal applications, as well as uses in the kitchen. Fortunately, once nettles are processed into a supplement, dried, freeze-dried or cooked, stinging nettle can be safely consumed. As a medicinal herb and food, nettles are an important source of vitamin A, which is necessary for skin health, vision, and the immune system4. They are also considered a source of fiber, calcium and potassium, and a regulator of blood pressure, neurological and muscular functions. Nettles are an important source of iron and other vitamins, such as Vitamin C and B.5 What's more, many of these nutrients act as antioxidants inside your body.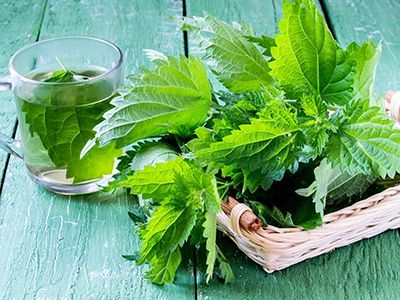 Food as Medicine – Nettles in the Kitchen
A gift from nature, nettles are a nutritious food that also adds surprising flavor to a wide variety of dishes. They can be cooked like spinach, added to an omelet, soups, and stews. We have a great recipe for making a Nettle Quiche you should try!
To read more about this delicious spring treat, read our founder's blog, and check out our article on quercetin, another ally for allergies.
Join the Mederi Center community by signing up for our email list! We send several emails a month with product promotions for patients, practical tips for healthy living, blogs written by our practitioners, information about events, and other news. You can unsubscribe at any time.
Learn more about becoming a patient >>
References
Kregiel D, Pawlikowska E, Antolak H. Urtica spp.: Ordinary Plants with Extraordinary Properties. Molecules. 2018;23(7):1664. Published 2018 Jul 9. https://www.ncbi.nlm.nih.gov/pmc/articles/PMC6100552/ 
Garcia Murillo, Pablo & Fernández-Zamudio, Rocío. (2013). Las ortigas. Danaus. 4. 24-27. https://www.researchgate.net/publication/258108844_Las_ortigas 
Jiarui C., Qi L., Friis I., Wilmot-Dear C.M., Monro A.K. Flora of China. Missouri Botanical Garden Press; St. Louis, MO, USA: 2003. Urticaceae; pp. 76–189 https://scholar.google.com/scholar_lookup?title=Flora+of+China&author=C.+Jiarui&author=L.+Qi&author=I.+Friis&author=C.M.+Wilmot-Dear&author=A.K.+Monro&publication_year=2003&
Rutto LK, Xu Y, Ramirez E, Brandt M. Mineral Properties and Dietary Value of Raw and Processed Stinging Nettle (Urtica dioica L.). Int J Food Sci. 2013;2013:857120. https://www.ncbi.nlm.nih.gov/pmc/articles/PMC4745470/
Mahlangeni NT, Moodley R, Jonnalagadda SB. The distribution of macronutrients, anti-nutrients and essential elements in nettles, Laportea peduncularis susp. peduncularis (River nettle) and Urtica dioica (Stinging nettle). J Environ Sci Health B. 2016;51(3):160-9. doi: 10.1080/03601234.2015.1108806. Epub 2015 Dec