Donate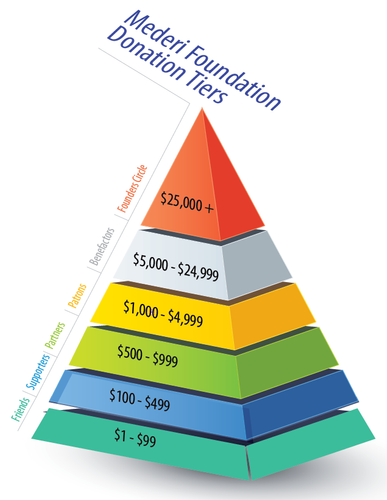 Ways Of Giving to Mederi Center®
Mederi Care offers patients the best hope for enhanced quality of life, positive clinical outcomes, and the high probability of a better chance of survival. Please partner with us in advancing personalized, integrative cancer care and health optimization. For more info, call 541-488-0514 or send an email.
The Mederi Foundation is a 501(c)(3) nonprofit organization. Tax ID: 20-2427855. Your donation supports our patient services, education, and research programs. All gifts are tax-deductible to the full extent of the law.
Option 1: Make a One-Time Donation
To make a gift on-line by credit card, please fill in the fields in the form below.
To make a gift by check, please make checks payable to Mederi Foundation and mail to: Mederi Center, Attn: Jennifer Yance, Executive Director, 478 Russell Street, Suite 103, Ashland, Oregon 97520
To make a gift via wire transfer to our bank account, please request our incoming wire transfer information by email or phone.
To make a gift of stock, please request our brokerage account information by email or phone.
To make a single or multi-year pledge, please download our pledge form.
Option 2: Make a Grant to Mederi through a Donor-Advised Fund
Donor-Advised Funds (DAF) are a tax-efficient way to manage charitable donations. 100% of your approved grant recommendation is sent to Mederi Foundation, with no transaction fees for you or us.
Donor-Advised Funds allow donors to make a charitable contribution, receive an immediate tax deduction, and then recommend grants from the fund over time. 
Mederi partners with some of the largest DAF sponsor organizations and their philanthropic services teams in the United States. 
Grants made to Mederi Foundation through Donor-Advised Funds are designated for Mederi Foundation to use wherever the need is greatest.
Clients of BNY Mellon, Fidelity Charitable and Schwab Charitable can make a designation by filling out the DAF Direct form to the right.
Option 3: Become a Partner for Health
Sign up for an automated recurring monthly donation by checking the box at the bottom of the page.