Our Programs
Mederi Foundation (dba Mederi Center®) is a nonprofit clinic, education, and research organization in Ashland, Oregon. Our mission is to optimize health, promote longevity, and improve the quality of life for those facing chronic diseases, especially cancer; and to provide a comprehensive, cost-effective approach toward the transformation of healthcare for individuals and institutions. We do this through our Patient Care, Research, and Education programs.
Patient Care
Mederi Care practitioners apply founder Donnie Yance's extensive knowledge of how plants, nutrients, diet, lifestyle, and pharmaceuticals work with the human body at the cellular, molecular, and genomic level. By utilizing botanical and nutritional medicine independently and in concert with allopathic medicine, we have had outstanding results in thousands of cases. Our patients live better, longer lives.
Our patient aid program offers support to patients in financial need who would not otherwise be able to comply with their Mederi Care regimen and monthly protocol costs.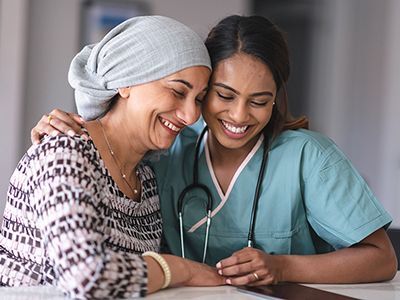 Research
Our research initiatives seek to validate the efficacy of Mederi Care treatments so they can be accepted by and integrated into the wider medical community. This is critical in making our approach to patient care available and affordable to all.
Education
As part of our education initiatives, Mederi Academy® offers online training that teaches healthcare practitioners how to incorporate the Mederi Care model into their practice. The program provides clinicians with the skills they need to enhance patient vitality and significantly improve the quality of life and longevity for people facing cancer and other serious health challenges, thus impacting future patients at a global scale.
"Mederi is playing a huge part in the fact that I'm able to continue to thrive and live with the cancer. Mederi is healing… healing in every aspect with your body, your mind, your soul. Not only are they able to talk about all of the medicine that I'm on and the chemo and oncology aspect, they're also giving me the supplements to keep my body healthy." ~ K.S.

Your Help is Needed to Expand the Reach of Mederi Care
You donation will enable us to expand the following Mederi Center programs:
Patient Aid Fund: Grow Financial Capacity to Assist More Patients

Through the generous support of donors, Mederi provides financial assistance to patients that need help covering the cost of their personalized Mederi Care treatment plan protocols. Our vision is to grow the Patient Aid Fund to offer a minimum of 5% of our patients with some level of protocol assistance. We understand the challenges of healthcare costs and seek to help when possible. Recipients are identified by practitioners and undergo an application process.
 
Mederi Academy: Train More Healthcare Providers, Impact More Patients

Having launched in 2022, Mederi Academy trains healthcare practitioners around the world who are committed to providing comprehensive care in the field of integrative, unitive medicine, with a particular focus on the Mederi Care methodology. Training in the Mederi Care model emphasizes advanced clinical applications of botanical, nutritional and biological medicine principles in order to successfully execute health-building protocols that enhance patient vitality and lifespan in the treatment of many health conditions, including cancer. Our goal is to expand our curriculum to produce and offer more in-depth modular courses through our online learning platform. In order to promote our program broadly, we need funding to support an aggressive marketing strategy that will reach healthcare providers worldwide, thus impacting future patients at a global scale.
 
Clinical Trials & Case Study Research: Validate Efficacy of Mederi Care

Research for developing case studies and formal clinical trials must continue in order to demonstrate that Mederi Care as a primary integrative approach is superior to other current methods and practices. Ongoing research and clinical trials will help substantiate the validity of botanical medicine and nutrition as foundational therapies along with their successful use in combination with other specific targeted therapies.